November 1st, 2013
Sports fans are known for their passionate tempers and fierce rivalries at games, but something off the pitch has got American football fans hot under the collar recently: the issue of what to call their team.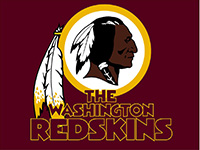 The football team now known as the Washington Redskins went through a series of name changes in its early years. Beginning in 1932 as the Boston Braves, the team moved to a new ground the following year and the team name was changed to the Boston Redskins. After another move in 1937, the name changed again to the Washington Redskins.
The debate over whether it is OK to call someone a 'redskin' has raged for many years. The word was allegedly used by early European settlers to describe the darker-skinned Native Americans, although there is another more sinister theory that 'redskin' refers to the blood-stained skin of Native Americans who were persecuted and killed by the white settlers.
Although a recent poll revealed that 75% of Native American people do not take offence to the word, a significant proportion does. They feel that 'the R word' is akin to 'the N-word' used to insult black people; a derogatory, racist term that has no place in everyday parlance, let alone as the brand name of a famous sports team.
Clearly the word 'redskin' is an emotive one. Yet, despite numerous suggestions of alternative names, and being petitioned by members of Congress to consider a change, team owner Dan Snyder has vowed never to change the team's moniker. In an open letter to fans said: "[the name] is a symbol of everything we stand for: strength, courage, pride, and respect – the same values we know guide Native Americans and which are embedded throughout their rich history as the original Americans".
Many disagree. Protests have become more common at Redskins' games, and even prominent sports journalists such as Christine Brennan at USA Today have admitted that they now feel uncomfortable using the term. The knowledge that many people now find the word unacceptable is a difficult thing to ignore.
It seems that other football teams are also battling this moral dilemma.

Although no official statement has been made, it has not escaped media attention that the Cleveland Indians seem to have ditched their well-known logo. Although the cartoon-like image of 'Chief Wahoo' – a red-skinned caricature of a Native American chief – has been appearing less on Cleveland merchandise, the design had always been considered the team's official logo. However, in the 2013 season, the players' batting helmets depicted a solid letter 'C', as did fans' post season shirts. The 2014 fan merchandise will not feature Chief Wahoo either.
This issue raises many interesting questions: I do not have the answers, but what do you think? Should the Washington Redskins be made to change their name, or can what some people may find racist be used in a positive way, or in a historical context? Were the Cleveland Indians right to drop their logo?
About the Author:
Although her primary niche is in scientific writing and editing, freelance writer Lisa Martin is also a creative type with an eye for design. She regularly works alongside graphic designers and as such has a keen interest in the development of logos and branding.