November 16th, 2018
1. What are ready-made themes?
Are you looking for an easy way to create a website for your company? If your answer is yes, this post is for you.
Ready-made templates are a magnificent tool for launching a website, even if you don't have many coding skills or experience. Developed and designed by specialists, ready-made themes take into consideration the peculiarities of different companies making your business competitive within the niche.
So, this post presents a brief review of 20 best-selling templates, including some popular WordPress themes, for various companies. Don't hesitate to read the information and choose the theme that you find most appealing.
2. A collection of 20 Flagship & Best Selling Templates
Monstroid2 - Multipurpose Modular Elementor WordPress Theme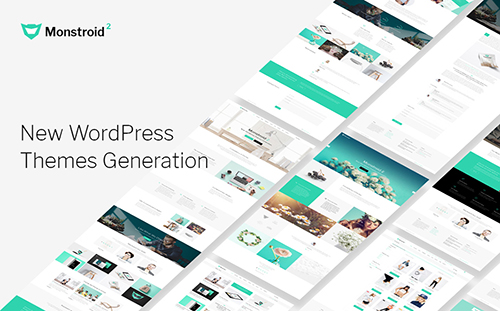 September 28th, 2017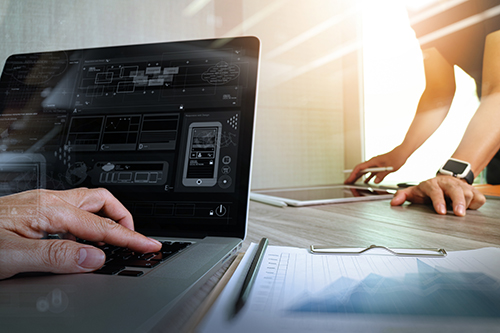 In today's business environment dominated by the slogan "better, faster, cheaper", templates are often seen as the go-to solution for everything. Need a logo? Get a free template. Need a website created? There are template-based web development platforms for that as well. Many entrepreneurs tend to think of these platforms as being "basically web design, but simpler and cheaper." Unfortunately, it doesn't quite work that way: there are several drawbacks to web template platforms that custom web design does not share.
Read the rest of this entry »
January 23rd, 2014
You might have noticed that things are looking a little different here on the LogoBee blog, and over on the main website, www.logobee.com.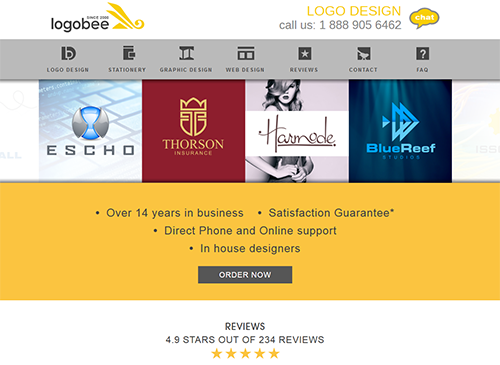 Read the rest of this entry »
October 25th, 2013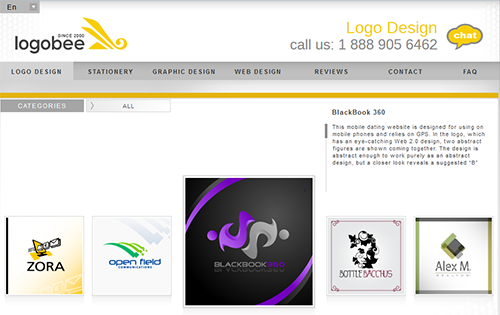 The time has come to kick it up a notch. After our successful logo update, we have moved on to upgrading our website itself. Along with the new logo came a new header and an updated navigation system. It is much more clean and intuitive than the previous one was. Lots of plans are on the way for the rest of the website as well! Stay tuned.
Read the rest of this entry »
August 12th, 2010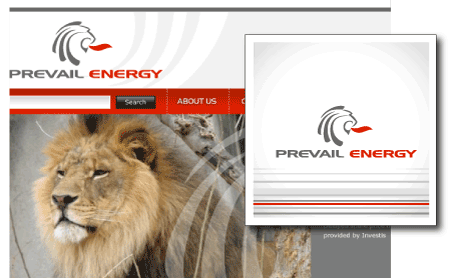 To answer this question, it's firstly important to establish that there is a difference. Web design is the art (and science!) of building a website. On the surface, a web designer is someone who makes a pretty website by arranging blocks of text, images, and other elements into an attractive and eye-catching design that will inspire a site visitor to take a closer look at the product, service or information being offered. Delve deeper however, and you'll see that web design is highly technical and includes the use of some complicated-sounding programming languages. Speak PHP, Ajax, BASH, AWK, TCL or Python, anyone? Graphic design on the other hand was traditionally a print-based profession, and the design process still generally begins with pen-and paper sketches. Nowadays, the internet and computer software such as Adobe Illustrator now go hand in hand with the job. Graphic designers create logos and corporate identities, and design packaging, advertising, letter heads, brochures and more. They work with typography – not only the traditional black and white, or Pantone 2 to 3 color logos, but increasingly these days, full color logos incorporating gradients, transparency, 3D shadows and more edgy effects. A graphic designer may provide the artistic and aesthetic talent towards creating the look and feel of a website, and mock up where on the page the different design elements should go, but the web designer is the responsible for converting this mock up by splitting the graphics into images, polishing the design with software such as Adobe Photoshop, and then using web coding to translate the design onto the screen. Since the global recession, design companies have been increasingly looking for multi-skilled jacks-of-all-trades who can perform the role of both graphic and web designer, thus cutting costs and getting two skills for the price of one.
Read the rest of this entry »
January 19th, 2010

Pixmac stock photos is the "Pink Picture Market". One of the fastest growing royalty free stock photography and image agencies in the world began their microstock industry revolution in September 2008.

In less than 2 years, Pixmac has assembled a vast image collection of more than 10 million pictures, representing Fotolia, Dreamstime, Celebrity Images, and the Pixmac collection all from one site. The largest collection of legally licensed stock photos anywhere!

Pixmac invented the "One Stop Shopping" experience for image buyers. This is the ability to find and purchase the perfect image instantly in a matter of seconds without the need to register first.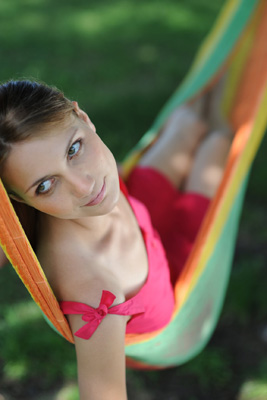 Read the rest of this entry »
November 23rd, 2008
It seems that one of the hardest things to get right in web design is creating proper layout and navigation. Sometimes a web site will be very rich in content, except that traffic will suffer due to poor navigational structure. In other words, navigation has become one of the key ingredients in developing sustainable, long-term traffic to your site. Your site tree: Often before you even get into the graphical aspects of your site, it is useful to think about the content that you will have for your site and brainstorm possible navigational schemes, otherwise known as site trees. These trees describe the way in which your site branches out into articles, products and services, and any other additional sections you may have. You would be surprised how different tree layouts can be created, but not all are created equal. Read the rest of this entry »
September 29th, 2008
LogoBee.com has a wide spread reputation as one of the top logo design businesses around; but they also offer web solutions. They have improved their website design information section. This feature on the LogoBee website has been around for years but it has just recently received a technical makeover. Vast improvements have been made so that internet surfers can find out all of the information that they desire to get a solid idea about how web design works at LogoBee, Inc.
To begin the web design odyssey there is a group of past website samples that were created by LogoBee in the past. Displaying past design work is a good way to introduce potential clients to the design quality being offered. The next step leads to some general pricing guidelines which can provide businessmen with a fair idea about how much their dream site will end up costing them in the end. Of course, all websites are different so it is always necessary to call in to speak with one of the professional about getting an accurate price quote.
Our web solutions coordinator, Tim, is always happy to help out individual interested in having a website created for them. He states that, "Working on the cutting edge of web solutions technology is fascinating. It is always satisfying to have the ability to offer people effective solutions at a minimum cost." Tim's enthusiasm for his work transfers in to the quality of support that he provides; past client Wesley Geys had this to say about Tim:
LogoBee's professionalism is top notch. Communication with Tim was prompt and reliable. The design process was fantastic. It went really smooth and all the main items were discussed and understood before they went to design. I would absolutely recommend LogoBee to anyone needing a logo design or website.
If interested browsers are not ready to phone in for an actual consultation they can always read over the 'Process' section that is available. This seven step overview will provide a general knowledge regarding the process that website design follows. So, regardless of your level of interest in getting your ideal website created for you; the LogoBee website is a phenomenal place to stop by.
Read the rest of this entry »
August 21st, 2008

LogoBee logo design has recently taken it upon itself to start the cleanup of the OSCMax Shopping Cart Suite. This project was intended to accommodate web developers and programmers in general. The final version has been released in the hopes that the web community, and LogoBee clients, will benefit from their best efforts. OSCMax is a derivative of osCommerce which is the world's most used Shopping Cart. It comes with a lot of extra functionality pre-installed, while osCommerce requires you to install them manually. Many articles have been written on the fact that this open-source solution is not W3C compliant and that it would be a large job to resolve this. These articles point out that a full cleanup to bring the code up to speed with the W3C compliancy expectations would be quite complicated. LogoBee logo design has done their best to make the OSCMax Shopping Cart Suite code W3C compliant. The code was quite extensive and the clean up was a time consuming process; but LogoBee is proud to release the results of their best efforts. Now website developers and programmers from the global web community will be able to benefit from their hard work with the new OSCMax shopping cart suite which can be found on LogoBee.com. The final version produced by the LogoBee team has been released and the web community is encouraged to try it out. This final version of the OSCMax Shopping Cart Suite can be found on the LogoBee website at this location: http://www.logobee-web.com/demo/oscmax/.
Read the rest of this entry »
June 18th, 2008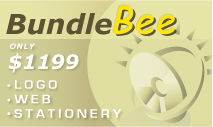 LogoBee, Inc. did not hibernate during the cold winter; rather they brainstormed and created arguably the best graphic design package available. LogoBee took their top-quality logo, web and stationery design services and mixed them all together to form the 'BundleBee', which explodes on to the scene with the force of a supernova!
LogoBee has established a stellar reputation in the logo design world. They have over eight years of artistic experience; and have taken top honors in the Summit Creative Awards and American Design awards. Their web design department's reputation has been soaring since it was added to their list of graphic design services. The new 'BundleBee' melds these two incredible marketing elements together allowing customers to obtain the best that the graphic design universe has to offer!
Read the rest of this entry »
June 15th, 2008
W3C Compliancy refers to the programming standards that have been established by the W3C Authority; which is the group responsible for maintaining and evolving the HTML language. Open Source Solutions are pre-programmed solutions that can be customized on both an aesthetic and functional level by experienced programmers. These solutions generally cover most of the business needs of clients; which is what makes them extremely popular as Online Business Solutions for clients not willing to invest large amounts of capital in Custom Developed (Programmed) Solutions. Since the W3C released its new level of standardization and Validation Tools it has become far easier for clients to see how their website complies with the standards established by the W3C. The one issue Read the rest of this entry »