March 3rd, 2015
In 1984, sports photographer Jacobus Rentmeester took a series of photographs for a pre-Olympics feature published in LIFE Magazine. The series depicted the iconic basketball player Michael Jordan as he approached the net for a slam dunk.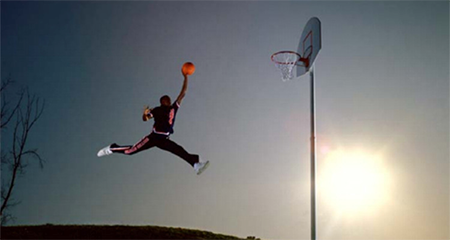 Later, in 1988, the famous Nike Air Jordan III shoe was launched with a silhouette of Michael Jordan – "the Jumpman" – on the tongue. It was the must-have shoe of the 80s – every kid wanted to be able to shoot hoops like Michael Jordan, and to do so, they needed his shoes.
Now, 28 years after the Jumpman first appeared on a pair of Nikes, Rentmeester is suing Nike for breach of copyright. Although Nike did not use Rentmeester's photograph directly to create the silhouetted logo, he claims the poses that Jordan adopted in the original photoshoot for LIFE Magazine were directed and staged by Rentmeester himself; they were not Jordan's natural slam dunk poses. Therefore, he argues, Nike tried to recreate that photoshoot to produce the logo for Air Jordan without giving Rentmeester credit for the original work.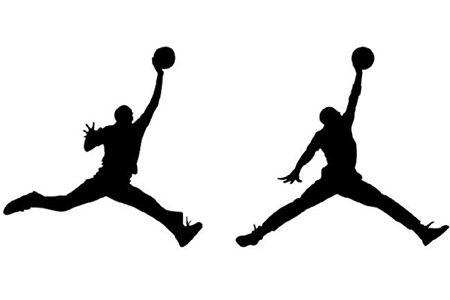 Spot the difference? Left: a silhouette created from Rentmeester's original photograph. Right: the Air Jordan Jumpman logo
There is no denying that the two silhouettes above look similar, but does Rentmeester have a claim? It will be interesting to find out what happens. What do you think?
About the Author:
Although her primary niche is in scientific writing and editing, freelance writer Lisa Martin is also a creative type with an eye for design. She regularly works alongside graphic designers and as such has a keen interest in the development of logos and branding.