September 20th, 2013
When I search the internet, I use Google. 'Googling' has become such a common part of our lives that the term has even become a verb in the modern vernacular. Want to know what's on at the cinema tonight? Don't call the cinema – Google it. Need some information for your homework? Don't go to the library – Google it. Want to know how many people have the same name as you – leave that telephone directory alone – just Google it!
So, when I read that Microsoft's search engine, Bing, had launched a new logo, it reminded me that other search engines do in fact exist. But with Google so popular and so ingrained in our day-to-day lives, what would make anyone switch to Bing? Does, in fact, anyone use it?

A quick search (Google, of course) led me to several suggestions of the ways in which Bing trumps Google and reveals that, indeed, Bing has plenty of fans. Entrepreneur blogger AJ Kumar suggests that, because of Microsoft's contracts with Facebook and Twitter, users searching for social data will fare better with Bing, since Google's main source of social information is the lesser-used Google+.
Another article by Slate blogger Farhad Manjoo highlights that Bing search results are more aesthetically pleasing than Google's ad-cluttered lists – although ironically he does liken 'the new Bing' to 'the old Google'.
Other anecdotal evidence in the Bing vs Google debate suggests that Bing searches are more accurate, its image search function is more useful, search results are less prone to bring up spammy or virus-ridden sites, and the advertising is less intrusive and better targeted. Maybe I will give Bing a try after all!
Certainly, getting people 'Binging' rather than 'Googling' is a priority for Microsoft, and it has recently launched a suite of new features including a refreshed look for Bing News, new tablet and mobile apps, and a new 'thinking outside the [search]box' approach. Along with this, Bing now also has a new logo.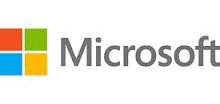 The new Bing logo ties it in with the relatively new Microsoft logo (top) by sharing its Segoe font, albeit a little more stylized, and adopting the same yellow hue as the bottom-right quarter of the Microsoft flag; retaining a nod to the previous logo's tittle.
A big benefit of Bing's new design is the addition of the stylized letter 'B', which – in this app-driven age – can be used as an icon its own right and is clean, simple and recognizable. Whether Bing's new look and new features can convert Google users remains to be seen, but I must confess I like it! What do you think of Bing's new look?
About the Author:
Although her primary niche is in scientific writing and editing, freelance writer Lisa Martin is also a creative type with an eye for design. She regularly works alongside graphic designers and as such has a keen interest in the development of logos and branding.