October 2nd, 2013

Started in 2003, the London Design Festival is an annual event that celebrates art, architecture, design and creativity in the city of London, England. Held over a period of 10 days each year, the festival is made up of more than 300 individual events that, according to London's Mayor, Boris Johnson, provide "the most vivid possible proof that London in the hub of the creative industries in the world".
For the 2013 festival, art lovers were spoiled for choice in terms of the diversity of events on offer: a photography exhibition by Karl Lagerfeld, a family pop-up performance art workshop, a seminar on 'Designing David Bowie', and a guided tour of the design-focused Victoria & Albert Museum were just a handful of the events available.
One exhibition that caught my eye this year was the '100% Norway' event, which has been held annually since the London Design Festival first started. The exhibition offers a celebration of pioneering Norwegian product design in the heart of London; every exhibit is a new design, and many are launched for sale for the first time at this event. For Norwegian designers old and new, it's a great place to showcase work, attract attention and hopefully snag a few sales!
This year, curated by Henrietta Thompson and Benedicte Sunde, the theme for the 100 Norway event was '10 x 10': ten long-established Norwegian designers exhibiting alongside ten fresh-faced, up-and-coming talents.
In the '10 Design Heritage' section, we find eminent designers including Peter Opsvik, a renowned furniture and interior designer; porcelain designers Wik and Walsøe; and Oslo National Academy of the Arts graduates Frøystad and Klock. In the '10 Design Future' section, fresh talent includes Kristine Bjaadal, who models her ideas with paper and clay rather than sketches; Lars Beller Fjetland, who in interested in sustainable design; and the Strek Collective – four designers who work together with natural materials to create "meaningful experiences useful relationships between the product and user".
There are many things to say about the individual designers and the pieces on show at 100% Norway, but a few items particularly caught my eye…

The first piece that I am sure all visitors to 100% Norway will have noticed, was the giant Norwegian sun lamp (above) that was the focal piece of the exhibition. Designed by Lisa Pacini and Christine Istad, the 3-meter diameter LED lamp can be hung or freestanding, and is a solution to Norway's long, dark, winter nights. The lamp's colors change over time from a bright daytime gold to a soft bluish sunset. Breath-taking!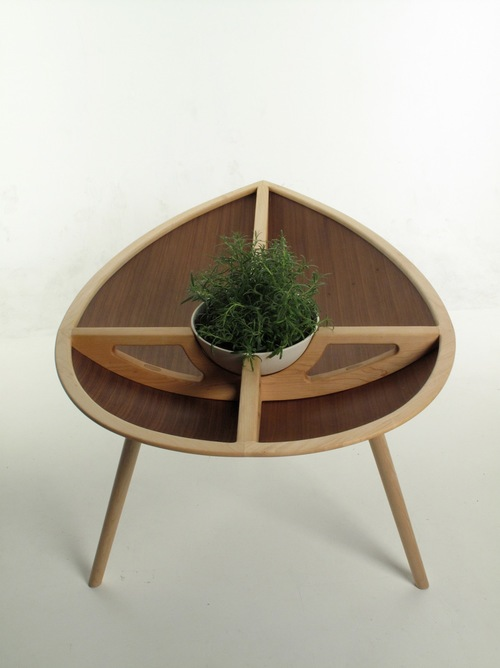 I've mentioned before that, when I'm not writing for LogoBee, I work in plant science communications, so it's perhaps not a surprise that this gorgeous table by Bergen Academy graduate Philipp von Hase also grabbed my attention. It's not only the recessed bowl of living herbs in the centre of the table that I love, but the fact that the whole table, which was designed to be used and displayed at a Bergen seed centre, mimics the anatomy of a seed. In case you're wondering about the practicality of a concave table, there is a 'leaf' which conveniently slides over the top to make it functional!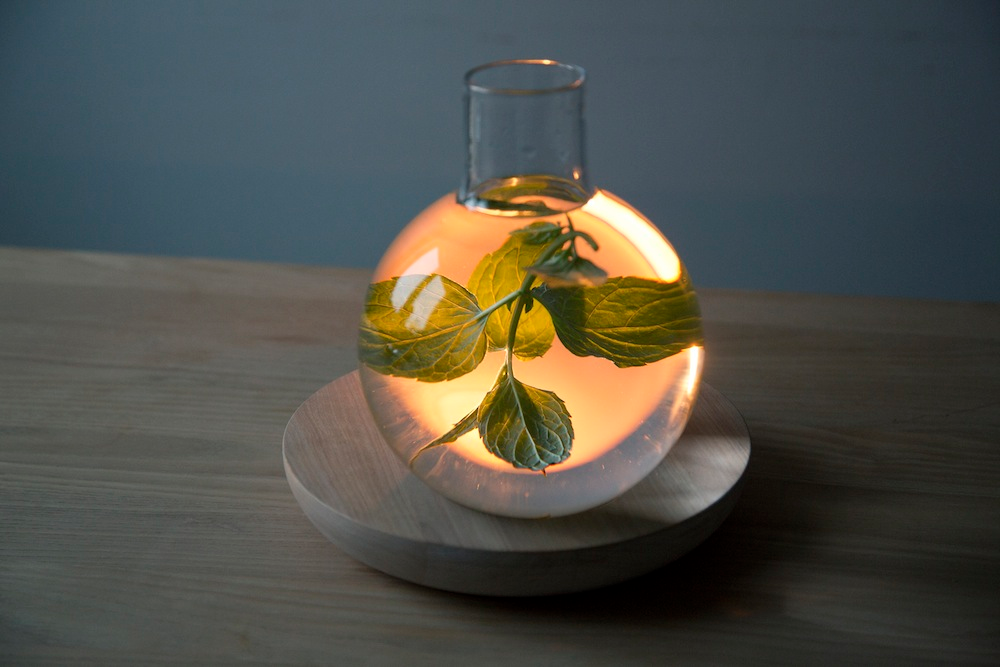 Finally, another plant-based design is this beautiful lamp by Kristine Five Melvaer. I love the softness of the light shining through the glass orb, which contains leaves that harmonize with the wooden stand.
About the Author:
Although her primary niche is in scientific writing and editing, freelance writer Lisa Martin is also a creative type with an eye for design. She regularly works alongside graphic designers and as such has a keen interest in the development of logos and branding.