August 29th, 2013
When I'm not indulging my interest in design by writing blog posts for LogoBee, the main 'hat' I wear is my 'science communications hat'. I am currently working at a university in central England, where I write about the plant science research that is happening in the UK. Plants fascinate me – they are beautiful, vital, intricate and complex – but it's not often that I get to write about them in anything other than a fundamental science capacity.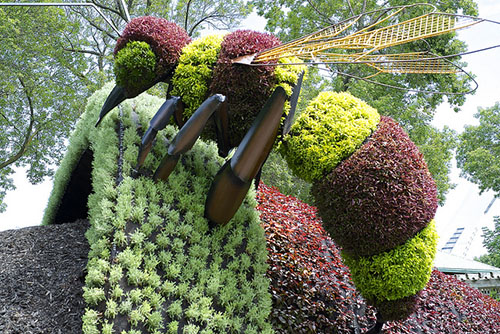 photo by Alain Charbonneau
So, I was excited to learn about the Mosaïcultures festival that is currently happening in Montréal until the end of September – it combines plants, science AND art from around the world! And, as you can see from these examples, Mosaïcultures is not just about topiary – this is some seriously clever horticultural design that combines frameworks made of recycled materials with plants and flowers of every conceivable type and color to create 'living art'.
With the theme of the 2013 festival being 'Land of Hope', many of the living art designs have been inspired by nature. This giant bee (left) – part of a Belgian governmental exhibit called the 'Garden of Insects' – demonstrates the important relationship between plants and pollinating insects, the latter of which are thought to be in decline due to aggressive pesticide use and the intensification of crop production.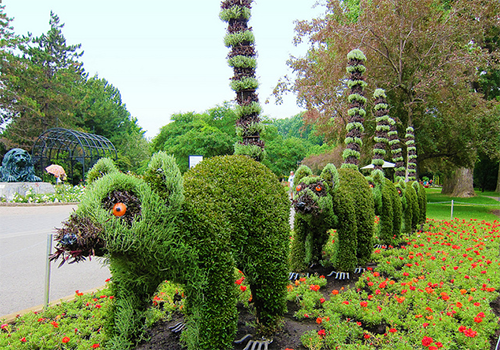 photo by Andre Vandal
This African exhibit from Madagascar (top) depicts a cheeky-looking line of ring-tailed lemurs. As one of the most biodiversity-rich areas on the planet, Madagascar is home to many species, like the ring-tailed lemur, that are not found anywhere else on the earth, yet deforestation and unsustainable human activity threatens the habitats of many of these creatures.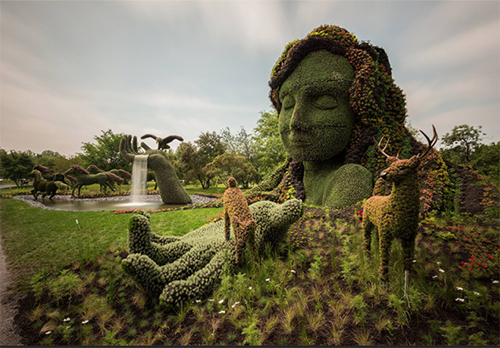 photo by Guy Boily
Perhaps my favorite of the Mosaïcultures, because of its colossal scale, complex intricacy and air of serenity, is this one (left) showing Mother Earth. The enormous female figure with her flowing green locks seems to spring from the ground and holds the plants and animals of the land in her hands. It reminds me of the fact that we have a strong connection with plants and animals on so many levels so we should be careful how we exploit them.
About the Author:

Although her primary niche is in scientific writing and editing, freelance writer Lisa Martin is also a creative type with an eye for design. She regularly works alongside graphic designers and as such has a keen interest in the development of logos and branding.