November 24th, 2014
Inspired by the success of the recent rebranding of Taco Bell, now it's Pizza Hut's turn to get a new look.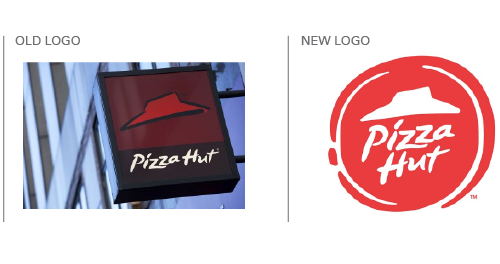 Though the essence of the brand – the sloping, brush-stroked script and red 'hut' roof – will not change, the new logo is flatter, more one-dimensional and features a simpler colour palette. The new background to the red and white logo is inspired by a swirl of tomato sauce on a pizza base.
The move to refresh the Pizza Hut brand comes after a period of falling sales and increased competition from rival pizza chains such as Dominos and Papa Johns. Along with a new look, Pizza Hut is also unveiling a new, wider menu featuring more exotic pizza toppings such as sriracha, curry and banana peppers.
Jared Drinkwater, Pizza Hut VP of National Marketing said: "As we looked to bring more flavor to pizza, we looked at our entire marketing strategy and felt it was time to bring more flavor to pretty much everything." The team behind the rebrand is Deutsch LA, who also worked on the Taco Bell redesign. Drinkwater credits Deutsch LA as the "mastermind" behind setting the Taco Bell brand "on fire."
How will Piza Hut fare with their simpler, flatter new look?
About the Author:
Although her primary niche is in scientific writing and editing, freelance writer Lisa Martin is also a creative type with an eye for design. She regularly works alongside graphic designers and as such has a keen interest in the development of logos and branding.