May 17th, 2016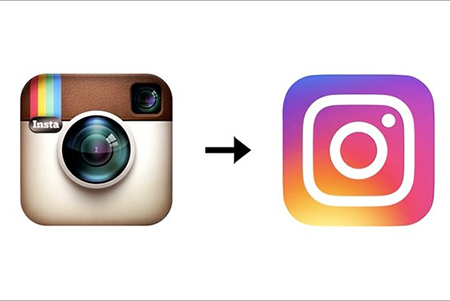 A couple of months ago we have talked about how Larry the Twitter bird has been turned from a mascot-style logo into a flat monochrome shape over the years, and concluded that the simplification was all but inevitable in today's design environment. Now, we have been proven right.
The mobile photo/video-sharing service Instagram has long enjoyed a "realistic", rendered camera as its logo, but just a couple of days ago decided to switch it out for a much simpler, stylized icon. According to Instagram's head of design Ian Spalter, the new image was chosen to improve the logo's flexibility. Easy to rescale, recognizable on a tiny icon, the logo "still suggests a camera, but also sets the groundwork for years to come."
However, a good fraction of the public seems to be somewhat less than thrilled about the decision. People who had grown accustomed to the old logo find the new and less detailed icon to be an unworthy successor, with tags like "#changeitback" and "#old insta" popping up and trending. Instagram, it seems, had been prepared for that inevitable deluge of criticism – with Spalter joking that he now intends to take a vacation… "in a bunker".
Instagram is one of the last social media giants to embrace the new and trendy look, which only adds to the outrage, since traditionalists had been hoping that the old logo was here to stay, that Instagram would not be swept into the "flat" craze. A hope that, as we can now see, proved futile in the end – after all, it is the fate of a social media company to always follow the crowd.
How do you feel about this all-consuming juggernaut of a trend that is "flat" logos? Is the advent of simpler and more versatile logos a good thing… or is it slowly destroying the creativity of the logo design industry?
About the Author:
Daniil Stoenko is a professional writer and translator who produced a variety of articles for LogoBee's Logo Design Blog over the years.