November 4th, 2015
As featured on the LogoBee blog just a couple of months ago, the designer of the logo for the Tokyo 2020 Olympic Games came under fire recently for allegedly plagiarising his design from the Théâtre de Liège in Belgium.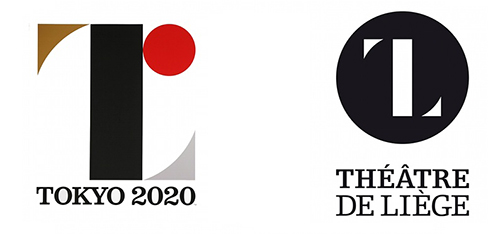 The artist Kenjiro Sano has vehemently denied that the logo was copied, saying he'd never even been to Belgium, let alone seen the logo before. Yet – under pressure from public opinion, and the threat of legal action by the Théâtre de Liège's logo designer Olivier Debie – the International Olympics Committee (IOC) has taken the decision to withdraw Sano's design.
So what will the logo be now?
In a controversial move, the IOC has announced a public competition.
I've written about logo design competitions on a number of occasions before, and – with very few exceptions – my general feeling is that they simply don't work. In this case, the competition is open to literally everyone – "no previous design experience or formal qualifications are required to enter" say the official entry guidelines.
Furthermore, logo design competitions open up also ethical debate over compensation. Whether or not they are professionally produced, the designer of each entry received – which will have taken varying degress of time, effort and skill – is expected to have produced his or her design for free.
And in this case, not even the winner is going to be paid! Instead, the IOC is offering a ticket to the opening ceremonies of the Olympic and Paralympic Games. If anything like the opening ceremonies of previous Games, this is sure to be a hot ticket and not one to be missed, but is it really fair compensation for what will ultimately become an incredibly famous logo?
About the Author:
Although her primary niche is in scientific writing and editing, freelance writer Lisa Martin is also a creative type with an eye for design. She regularly works alongside graphic designers and as such has a keen interest in the development of logos and branding.