December 11th, 2013
Happy birthday Canada! Well, almost. The independent state of Canada turns 150 years old in a few years' time and Canadian Heritage has commissioned a new logo design to celebrate this momentous occasion. But how do you represent 'Canada' in a logo?
Like this, apparently.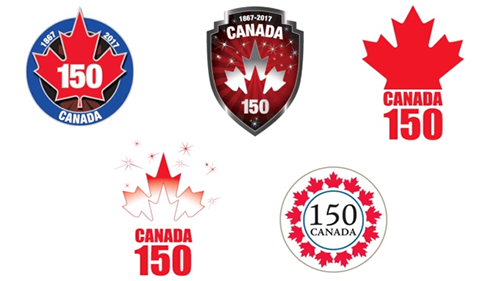 Produced in house at Canadian Heritage, these five logos represent the best of Canada – allegedly.
The colour red features heavily in the designs, as does the maple leaf, but according to the results of a $40,000 focus group study, none of these icons is good enough.
Members of focus groups in British Columbia, Ontario and Quebec were asked for their thoughts on which logo they preferred, but there was no clear winner. Criticisms included the idea that the designs look too much like a hockey puck, or a beer label, or even the Petro-Canada logo, and do not represent Canada's great wealth of diversity.
French Canadian focus group participants, who were all interviewed in French, were apparently most inclined to be emotionally disengaged with the whole 150-year celebration idea. Some respondents even felt the inclusion of the colour blue on the logo design top left looked "too American" – perish the thought!
The 150th anniversary logo has a lot to live up to. For the country's centennial celebrations in 1967, the nation embraced Stuart Ash's very modern maple leaf logo featuring 11 multi-coloured equilateral triangles to represent the 10 Canadian provinces and the territories.
That logo was seen as innovative, creative and a celebration of Canada's multiculturalism – it even launched Ash's career as a top designer – but almost 50 years later and it seems as though these logo designers have gone even further back in time.
So what happens now? No-one knows! Canadian Heritage has said that they are "developing plans" and have "no deadlines, per se."
How would you represent Canada in a logo? According to the focus groups, the new design needs to represent multiculturalism, diversity and appeal to a younger audience, but how do you do that without using clichés? How do you represent 150 years of an independent nation without focusing your design on too narrow an aspect of Canadian culture?
As someone who is not a designer, rather an appreciator of design, I couldn't begin to put to come up with a suitable idea, but if it was done in 1967 I'm sure someone could do it for 2017.
About the Author:
Although her primary niche is in scientific writing and editing, freelance writer Lisa Martin is also a creative type with an eye for design. She regularly works alongside graphic designers and as such has a keen interest in the development of logos and branding.