January 23rd, 2014
You might have noticed that things are looking a little different here on the LogoBee blog, and over on the main website, www.logobee.com.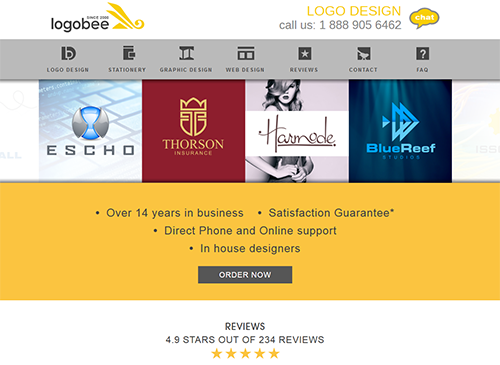 In the world of design, nothing stands still. As well as companies themselves growing and evolving over time, shifting patterns in design trends, new creative methods and technologies influence how logos are created and what customers prefer and expect. To stay fresh and current, a design update is needed every now and then.
LogoBee recently announced the launch of its new logo – a stylized and timeless rendition of its previous 'flying bee'. Now, after 14 years in the business, LogoBee's website has had a makeover too.
The user experience is sleeker, more intuitive and user-friendly. We've replaced a lot of the text-heavy pages with graphic-led visuals and icon buttons – as you might expect from a logo design company!
The standalone blog has also been refreshed with a simpler category structure. It includes many interesting articles on aspects of logo design, graphic design, art and culture, as well as 'how-to' tutorials to help you recreate some of LogoBee's techniques.
We hope you like the new look!
About the Author:
Although her primary niche is in scientific writing and editing, freelance writer Lisa Martin is also a creative type with an eye for design. She regularly works alongside graphic designers and as such has a keen interest in the development of logos and branding.