February 21st, 2014
The decision to host this winter sporting spectacle in the Russian Federation has been well criticized, particularly by the lesbian, gay, bisexual and transgender (LGBT) community and its supporters who are protesting over Russia's strict and highly controversial anti-gay laws.
Unlike it's country's politics, and unlike the much-discussed and hotly debated logo for London's 2012 summer Olympic Games, the logo for Sochi 2014 seems to have slipped under the global radar. Nothing much has been said about it in on or offline media – in fact the world seems to have collectively shrugged and given a unanimous, "Meh!"
What do you think of the logo design?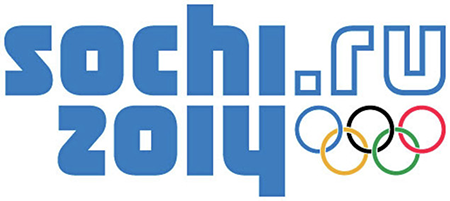 Critics of the logo have said it's "disappointingly not very 'ground-breaking'" and "dull" (David Harris, Executive Creatiove Director at Wunderman); "Not so much 'Gateway to the future!' as 'Back to the Future by way of Heroic Soviet Past!'" (Simon Myers, Director at Figtree); and "it's pretty much devoid of any kind of an idea…It's all a bit basic" (Stuart Gilmour, Creative Director at Stand).
While I haven't found much evidence of any out-and-out fans of the logo, some have been less harsh with their comments: Richard Morris, Managing Director at Identica said: "My first reaction was thank goodness it's not trying to be desperately hip. Because, as we all know, you just end up looking a bit desperate."
"I'm no fan of the London 2012 logo, so it's a relief to see Sochi 2014 restore some sanity," said Fred Burt, Managing Director of Siegel & Gale London. "But," he concludes, "it's the experience, not the logo, that will make this brand. I've forgotten the Beijing logo already." Having been lucky enough to attend two Olympic Games myself, I concur.
According to the Russian President of the International Olympic Committee Dmitry Chernyshenko, the logo, which is the first ever Olympic logo to feature a web address, is "a clearly digital Games emblem" that aims "to prove our commitment to innovation." Do you agree?