November 14th, 2013
There are few emblems that can divide nations and render a fully grown adult to tears, but the flag of one's own country is one of those emblems.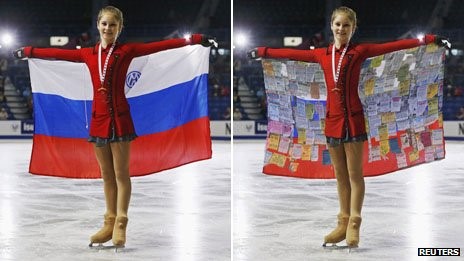 Image source: news24hournepal.blogspot.ca
In my native Britain, the Union flag, the combined flag of the UK principalities, was waved with tremendous pride in support of our 'Team GB' at last year's Olympic Games. Yet when our individual English, Scottish, Welsh and Northern Irish soccer and rugby teams are in contest, each countryman and woman retreats to his or her own corner of the British Isles!
I was interested to read of the outrage caused in Canada recently, when 15-year old Russian figure skater Yulia Lipnitskaya pulled off a perfect performance at a recent Grand-Prix event. Photographs of gold medallistswearing their national flag are not unusual, but the fact that in this case the Russian flag also featured a Volkswagen logo, seems to have got many Russians hot under the collar!
Advertising in Russia is heavily state-controlled; it is thought that over 70% of adverts and billboards in Moscow are pasted illegally. This incident – something that many in capitalist nations probably wouldn't even have noticed – was called "the lowest of the low" by some Russian patriots. One blogger even said the ice dancer might as well have had the trademark tattooed on her face!
As you can see above, some Photoshop-handy bloggers responded by creating spoofs of the original photograph, such as this one where the flag is plastered with 'sponsor's messages. Interestingly, although one blogger pointed out that it was not a flag that had been 'defaced', but a rain poncho handed out by the Volkswagen sponsors, few people seem to have noticed that the Russian flag is actually upside down!
In the UK, although there is apparently a correct way to display the Union flag, few people ever notice if it is upside down. I don't think it would bother me, but I'm sure a few Brits would have something to say if we covered the flag in advertising! What do you think about this issue? Is the design of a country's flag sacred?
About the Author:
Although her primary niche is in scientific writing and editing, freelance writer Lisa Martin is also a creative type with an eye for design. She regularly works alongside graphic designers and as such has a keen interest in the development of logos and branding.