August 22nd, 2010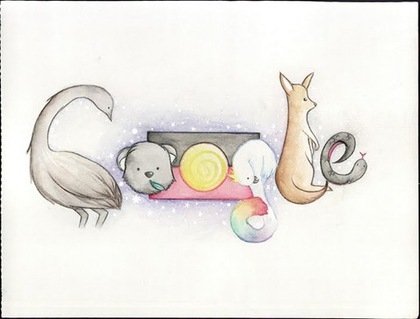 While most logos are created by professional designers, sometimes, even a child can come up with something beautiful.

Jessica Du, an 11 years old girl, has done so, and has deservingly won the Doodle 4 Google competition. Her design for Australia Day is simple, yet particularly cute and charming, drawn with the kind of innocence only a child could achieve. Diverse typically Australian animals (emu, koala, cockatoo, kangaroo and snake) form the letters of the word "Google". The idea of the logo is besides perfectly clear, unlike that horrendous London Olympic logo treated in another one of our articles. Merely looking at these cuddly creatures will give anyone a desire to protect wildlife.

Yet one feature is missing from the final design: the aboriginal flag, standing for the second letter "o". To be more precise, the yellow circle remains, the rest of the flag is gone.

To be fair, the logo didn't lose much from the purely esthetical point of view. Perhaps even gained a little harmony. Yet it simply feels incomplete now. This yellow circle has been orphaned of its meaning. Every other letter is a symbol, yet this circle is just a letter "o", colored yellow with a swirl in it. Not to mention that since the logo had to be altered, the final version lost some quality, and appears rather blurry compared to the original.

Now I will not pretend to know whose side is in the right and whose is in the wrong in the argument over the flag. Where Harold Thomas, creator of the flag, maintains that Google refused to pay him the rights to use his design, whereas Google pretends Thomas simply refused to let them use the flag. And undoubtedly, there were reasons why the flag was altered – perfectly valid reasons. Yet, you've got to ask yourself the question: were they reason ENOUGH to handicap the product of a little girl's hard work?