April 15th, 2011
Budget's too tight? Can't spend money on logo design? No problem! Just download one of these high quality logos, for free! Simply throw in some customization of your own, and you've got yourself a logo!

Each logo design was created by LogoBee designers using Adobe Illustrator. They are provided free of charge for you to download in scalable vector format (Adobe Illustrator CS3). Click the picture of a logo to download it. For more freebies, check out LogoBee's first free logos collection here:

You are welcome to use these logos for your business or for personal use, but we have to ask you not to distribute them without permission.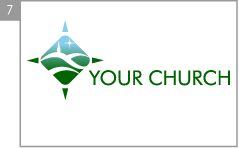 Logo #7: A series of hills with a church in the distance, a single star gently shining in the skies above. The outwards shape of the logo suggests a cross or perhaps a star. Peace and quiet are conveyed by the smooth colors and curvy lines of the logo, making it an ideal choice for a church.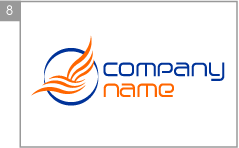 Logo #8: An abstract logo, all in curbs. Two sets of stripes join each other to create a shape which looks somewhat like a pair of wings, symbol of freedom. This modern logo is all indicated for high-flying consulting innovation enterprises.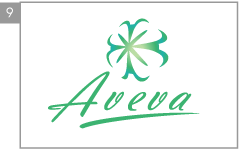 Logo #9: The blue and white colors of this logo suggest peace and calm. The logo itself is reminiscent of water, a blooming flower, as well as a star, all of those being objects for quiet and calm contemplation. The ideas of natural beauty and peace make this logo appealing to cosmetic businesses and spas alike.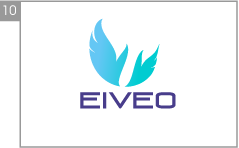 Logo #10: A simple yet powerful logo, consisting of a pair of feathered wings. The smooth, light colors suggest peace and a certain sense of holy. The wings are reminiscent of both those of a dove and an angel, making this a good logo for a church, or a non-profit organisation for world peace.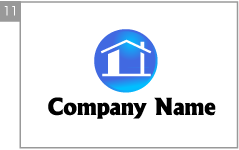 Logo #11: A simple and standard logo: a blue shiny sphere featuring the white silhouette of a house. The gradient effect makes the logo more edgy. This is a solid, professionally done logo for a reliable, down-to-earth company. For obvious reasons, this logo is intended for real estate, consulting or innovation companies.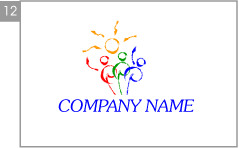 Logo #12: This logo, intended for some association, a nonprofit company perhaps, depicts a group of people reaching out for the sun shining bright overhead. Bright colors, sun and somewhat childlike drawing style suggest optimism, friendship, laughter and joy.