June 18th, 2008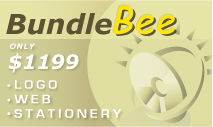 LogoBee, Inc. did not hibernate during the cold winter; rather they brainstormed and created arguably the best graphic design package available. LogoBee took their top-quality logo, web and stationery design services and mixed them all together to form the 'BundleBee', which explodes on to the scene with the force of a supernova!

LogoBee has established a stellar reputation in the logo design world. They have over eight years of artistic experience; and have taken top honors in the Summit Creative Awards and American Design awards. Their web design department's reputation has been soaring since it was added to their list of graphic design services. The new 'BundleBee' melds these two incredible marketing elements together allowing customers to obtain the best that the graphic design universe has to offer!

The new 'BundleBee' is the complete corporate identity and branding package. But do not let the low price fool you in to thinking that the design quality will suffer. LogoBee logo design promises to deliver the high-quality services that they are known for. This new package is the perfect choice for entrepreneurs looking to start up their new business ventures; and for established businesses that are looking to increase their marketing or update their corporate identity.

Additional Information on the 'BundleBee' Package:

Please take a look at our various graphic design packages, including the new 'BundleBee' and click on the one that you are interested in purchasing. All of our packages are listed at this location: http://www.logobee.com/logo-design-prices/prices.htm