September 24th, 2015
Any custom logo design company worth its salt will tell you that the key to creating a successful logo is good communication with the customer. In order to provide the client with a variety of logos to choose from, it is very important for a designer to understand said client's preferences. The only way to accomplish this is to ask the right questions, such as…
1. What is the name of your company? This one is obvious enough. Often, the name of the company will play a major role in deciding what will be represented on the logo – sometimes, the name itself is the logo. Even if that is not the case, the name of the company is incorporated into the logo more often than not. Even the simple question of whether the company's name is long or short plays a major role in deciding the type of logo to be created.
2. Which words in the company name do you want to emphasize? If the company name consists of multiple words, the client may not wish to give equal billing to all of them, especially since that might make an unnecessarily bloated logo. Some words will be made to stand out while others will be given minimal priority.

3. Do you want to include a tagline into the logo? Adding taglines to a logo is not recommended in general, since they make the logo too cumbersome as they take too much space. However, some clients insist on having the tagline of their company featured in their logo.
4. What is your company's field of business? This is very important. Different businesses call for different logos. Engineering company logos are usually all straight lines, blueprints and geometric shapes, while food companies prefer colorful logos with smooth and curvy shapes. A single glance at the logo should be enough to understand what the company does and what it's all about.
5. What age group of customers are you targeting? The logo has to look attractive not only to the client, but to the client's own customers. Different age groups have different tastes. This is why logos for kids' toy companies, for instance, are almost always very bright and colorful and would have been considered overly garish for most other types of companies.

6. What distinguishes you from other companies in this field? This can be as important as the field of business itself. There are thousands of companies in each sector of the market, but every logo needs to be unique. One possible way to achieve this is to base a logo around the specificities of a company. If it has something distinguishing it from its competitors, you can base the logo on exactly that.
7. Who are your competitors (and what do you think about their logos)? Tying into the above, it's much simpler to design a logo that sets the company apart from the concurrence if you know what kind of logos the concurrence has. By asking the clients for their opinions about their competitors' logos, you will have a solid basic understanding of what to do and what not to do with their own logo.
8. What colors do you want or not want to be used in your logo? As a logo designer, you most likely have a gift for choosing the right style and colors for a logo depending on the factors already listed above. However, at the end of the day, you are still working for a client, and if said client dislikes green, then it does not matter whether you think it would be the most appropriate color to use for their logo – if you make the logo green, it will simply not satisfy the customer.

9. What logo layout do you prefer? Some logos are fully text-based, some have a graphic incorporated into the text, and in some the graphic is separate from the text. Additionally, there are also logos made to resemble seals or badges. Make sure to ask your clients which of these layouts they prefer.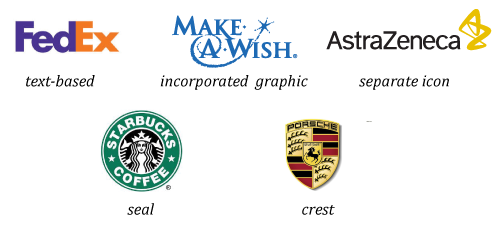 10. Graphically speaking, what should the logo contain? When a client wants graphics in their logo, there are three options. The simplest design-wise is to create a logo based on the company's initials. Other options are either a graphic related to their business/company name, or an abstract graphic. Understanding the preferences of your client in this aspect is key.

11. What do you intend to do with your logo? Where do you intend to display it? Companies can feature their logo in all sorts of places – website, business cards, promotional products… The logo has to "work" in each and every location it will adorn. If a company intends to make a lot of promotional products, then the logo you make for them should be easy to reproduce on any medium (pens, mugs, clothing), which sounds easier in theory than it is in practice! Logos intended solely for web use can have gradients and a wide color palette, while embroidery calls for simpler logos, with up to 3 colors.
12. If you have an existing logo, do you want to keep any elements of it? Some clients may come to you with an existing logo. It is important to ask whether they want to forget about that logo completely or whether they want to refurbish the existing logo to increase its quality.
13. Which companies have your favorite logos? Yet another way to figure out what your clients want from you is to ask them for their favorite logos of all time. The odds are good that they would like their own business to have a logo similar to those.
14. Do you have any other ideas of your own for your logo? Some clients really don't know what they want. They rely solely on you, the designer, to come up with all aspects of their logo for them. Most clients, however, will already have at least a sliver of an idea for their logo in their mind. Some may even have a clear mental image of the logo they want, and just need your help to bring it into reality. By asking this simple question, you may have your work cut out for you and reduce the risk of clients disliking your logo because it does not fit with what they had in mind.
No designer is a psychic, so getting into a client's mind is not an easy task. However, with your clients' responses to these questions, you should gain enough understanding of their taste in logos to design a selection of samples they just might have a hard time picking a favorite from!
About the Author:
Logos and fonts have always been a source of passion for Natalia Stoenko. For the last 20 years, she has been working as a graphic designer for LogoBee, leveraging her priceless experience in the logo design field. Her motto? "Quality first!"