December 12th, 2014
Last week it was announced that DC Comics, the publisher behind the Batman comics, had filed a lawsuit against Spanish soccer club Valencia to stop them using a new logo design.
Though the bat symbol has been a part of the soccer team's branding since its inception, the design was recently revamped and a new application for copyright was made. This roused tempers at DC Comics, which countered the claim saying the logo was too similar to the Batman brand.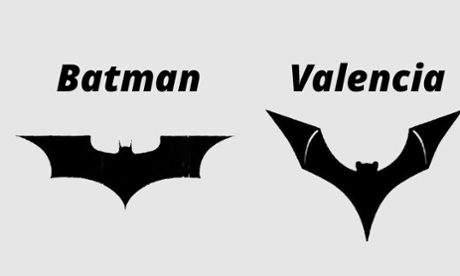 Despite the fact that the bat has been a part of the Valencia soccer team's branding since 1922 – and there is evidence to suggest it has been used a symbol of the Spanish city since the 13th century (while Batman's logo first appeared in 1939), it seems that DC Comics got their way. No legal action was taken in the end, but Valencia this week announced it had "no plans" to continue using the logo.
What are your thoughts on this matter? Do you think the two logos are too similar? Did DC Comics have a right to "present its opposition to the request" for copyright? Why did Valencia back down so easily?
About the Author:
Although her primary niche is in scientific writing and editing, freelance writer Lisa Martin is also a creative type with an eye for design. She regularly works alongside graphic designers and as such has a keen interest in the development of logos and branding.