April 15th, 2011
Budget's too tight? Can't spend money on logo design? No problem! Just download one of these high quality logos, for free! Simply throw in some customization of your own, and you've got yourself a logo!

Each logo design was created by LogoBee designers using Adobe Illustrator. They are provided free of charge for you to download in scalable vector format (Adobe Illustrator CS3). Click the picture of a logo to download it. For more freebies, check out LogoBee's first free logos collection here:

You are welcome to use these logos for your business or for personal use, but we have to ask you not to distribute them without permission.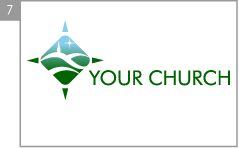 Logo #7: A series of hills with a church in the distance, a single star gently shining in the skies above. The outwards shape of the logo suggests a cross or perhaps a star. Peace and quiet are conveyed by the smooth colors and curvy lines of the logo, making it an ideal choice for a church.

Read the rest of this entry »